'Never had 2 commas in a single position before' — Investors celebrate huge gains in meme stock GameStop
CNBC's Jim Cramer, citing a famous quote from Alexander Haig, recently told his co-host David Faber that Reddit, not Citigroup
C,
+0.28%,
was "in control." He then used a "Rock, Paper, Scissors" metaphor to hammer home his point. "Citi's paper, OK? Reddit's scissors," Cramer said.
Cramer and Faber were discussing Palantir
PLTR,
-2.60%,
one of Reddit's favorite stock picks, but the duo could have just as easily been talking about GameStop
GME,
+57.39%,
another meme stock in the popular WallStreetBets community.
The buzz around GameStop reached a fever pitch in Wednesday's wild trading session, with the stock banging out big gains on what looked to be a massive short squeeze. The surge kicked in on Monday when shares finished up double-digits after the video-game retailer reached an agreement with activist investor RC Ventures to add three of its members to the board.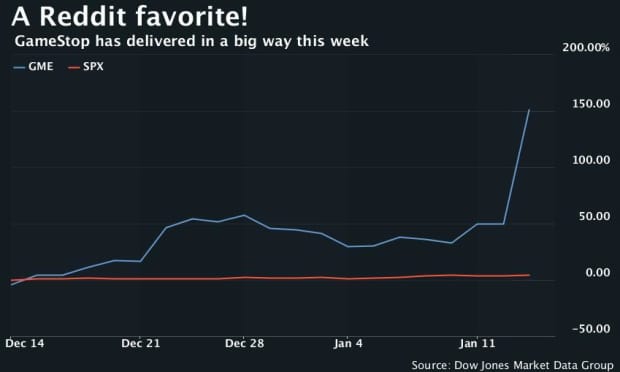 And with that, it was party time on WallStreetBets, where one investor told the crew to get ready for plenty of "gain porn" as the stock continued its push. "For those of you who paper handed, I'm sorry," he wrote, with a nod to Cramer's take. "Although maybe it opened your eyes to realize that WSB runs the market. We're bigger than investment firms."
Bigger? Maybe. More entertaining? Definitely. Here are some highlights:
And, of course, some of that "gain porn":
Clearly, Cramer continues to pay attention to the "scissors":
GameStop closed up 57% on Wednesday and kept moving higher after the bell. The Dow Jones Industrial Average
DJIA,
-0.03%
ended slightly lower while the tech-heavy Nasdaq Composite
COMP,
+0.43%
and S&P 500
SPX,
+0.23%
both finished in the green.